We coach and train leaders and their teams
USING A SYSTEMIC APPROACH
"One's got to change the system or one changes nothing"

George Orwell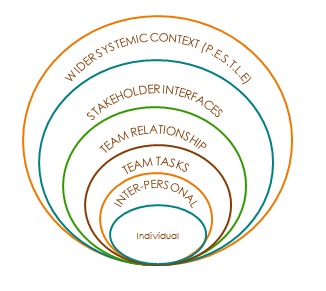 Each of us is an ecosystem which is impacted by factors such as our health, our families and friends, our work, our beliefs, spirituality or connection to nature.  The same applies to organisations. Their ecosystems are impacted by all their stakeholders and the relationships between those stakeholders (individual employees, teams, departments, communities, investors, suppliers, clients or beneficiaries and the environment).  Organisations and individuals are also impacted by the economy, technology, politics or the environment.
Systemic team coaching recognises that for any change to be sustainable and impactful, all these relationships need to be taken into account.  Change may have a positive or a negative impact on another area of your business or another stakeholder so it is important to have a full picture of the ecosystem and the impacts of changes.
We identify and agree at the start of a relationship measures for return on investment.  Systemic Team Coaching will accelerate the transformation towards a sustainable future.
It will STRENGTHEN your organisation by:
Taking into account multiple stakeholder needs – people, planet and profit –

to sustain business and benefit shareholders

Maximising the use of the organisation's resources: reducing waste, increasing efficiency and effectiveness, building partnerships and ensuring good governance
Establishing a collaborative, trustworthy and responsible environment, enabling organisations to adapt to unexpected challenges or disruptions
Encouraging a planning horizon that

reinforces stakeholder returns

Challenging organisational assumptions, habits and models to ensure adaptability and flexibility
It embeds EMPLOYEE ENGAGEMENT:
It builds leadership capacity throughout the organisation
Employees are

more aware

,

action oriented

and

accountable

.
They feel like they belong and

need less "managing"

Collaborative, trustworthy and inclusive environments improve communication, increase productivity and improve employee satisfaction
Employee satisfaction attracts and retains more talent and enables greater success in the deployment of more innovative strategies
Satisfied, productive and motivated employees serve customers better,

driving higher profit & revenues.